we would like to welcome you all to our web-site
Tokyo knitting needle industry Co., LTD. is located in Daegu city of South Korea. it now is a large scale modern company selling all kinds of needles.
The company has been producing best quality needle, sinker and jack with the help of advanced facilities, imported high quality materials and perfect quality control system. Having Professional R & D team, It constantly develops up new products for the market and creates products according to customers' requirements. It is also equipped with modern, convenient operating rooms, advanced product streamline and test facilities.
Its main products circular knitting machines, hosiery machines, double cylinder hosiery machines, underwear knitting machines, flat knitting machines, warp knitting machines, glove knitting machines, transfer needles and sinker.
The company can provide high quality product with reasonable price. The needles are sold to many countries including China, Korea, India..
We can supply you with all kinds of knitting needles, which is Circular, Transfer , Hosiery , Flat, Wire ,Sinker , Jack needle and spare parts. We are looking for a good customer who always could be done a good relation and friend - ship everywhere. If you have any question, please do not hesitate to contact to our Overseas Office and we look forward to hearing from you soon.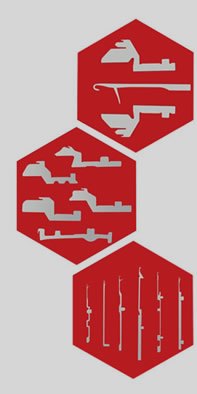 To service a complete products, the range was confined to the latch needles and spare parts for a variety of the knitting m/c.

Tokyo needle develop and produce a comprehensive range comprise to

- Circular knitting Machine Needles

- Flat bed Knitting Machine Needles

- Socks and Hosiery Knitting Machine Needles

- Races Knitting Machine Needles

- Variety of spare parts (Sinkers & Jacks etc.)
Bring an accommodation to the market movement, Tokyo needle maintainly develop a quality,

invite a technical ideas and adjust to it's processing and managements.
"
THE SPIRIT OF PARTNER-SHIP"

Tokyo needle always pursue the spirit of partnership seriously,
and hope to give all it's values to the right ways, Contacting,
Production, Quality and Service and will be blessed with you
and customers who are ready and know us.
Copyright for Quality Tokyo needle
What's wants,

- How to go up to the top
- How to control the quality
- How to produce the products
- How to manage the service
All questions with us, all satisfies with you.